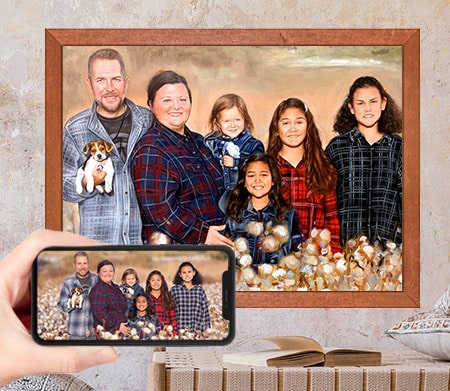 100% Money Back Guarantee + FREE Shipping!
Only

10% Deposit due now:

$19

Remaining balance after painting approval
Tour Our Acrylic Portrait Gallery
Thank you for sharing the paint your life love!
My mom lost her brother in 2019 to Cancer. They were very close, but they lived in separate states. They didn't have any adult pictures together. PaintyourLife creates a picture and then painted it wonderfully. She told us that this was the best Mother's Day ever!
Read more
I recently became a grandmother to my first granddaughter, Maci. I thought it would be a great idea to have a painting done of her and her great paternal grandmothers; one died a few years ago. As Maci grows older, I not only want her to hear wonderful stories about the two but also have a magnificent vision of them as well. Thank you, paintyourlife.com, for allowing me that opportunity. Job well done.
Read more
Having lost my dad 6 yrs ago, I knew I would never experience the joy in my father`s eyes when he held his newborn grandson. I saw an ad for paintyourlife.com and decided to give it a try. The results were beyond my expectations. Thanks to you, I can now see that look in his eyes that I only dreamed about. Thank you!
Read more
My wife's dad died in 2012 and it was devastating. We got married in 2014 and had our 1st child in 2019 so I wanted a family photo of us since we never got to get a photo. I knew this would make my wife and mother-in-law very pleased.
Read more
My Nana, maternal grandmother, passed away in 2013; the summer after my freshman year of college. My mom has always been close with her mother and talked to her every day, not to mention she helped my parents raise me, my twin sister, and my brother. Recently, on April 2, 2020, I had my first child and my mom`s first grandchild. Whenever we would speak about Nana after Aurora was born my mother's lip would start to quiver. "She would've loved her so much. She does love her so much. GG [great grandma] would never let you go." She would always say. Well, now she really never will! The painting is amazing and a beautiful tribute to my beloved Nana. This painting means more to my family than any gift we've ever received.
Read more
We, unfortunately, won`t ever have the possibility of growing old with our daddy and taking pictures with him due to him passing away from ongoing sickness after a tragic car accident he barely made it out alive from. We couldn`t find any too many pictures of my sister and my dad together so I know this would be the perfect gift for her. Thank you @paintyourlifeart for making everything I envisioned and more!
Read more
One of the toughest things about losing my grandpa was knowing that he was never going to get the chance to meet my daughter! My grandpa died right after Denver was born and a couple of months before Raegan was born. If you had the chance to meet my grandpa you would know how amazing of a man he was, how he was extremely giving, and how he is one of the strongest men I know! He put everyone before himself and provided my family with so much! From helping pay for college to extravagant family vacations! He was the reason our family was so close and I will treasure that forever! I can't wait to tell her all about her great grandpa and all the stories he provided us with! I am so blessed Raegan has an amazing guardian angel looking down on her and she will be able to cherish this painting forever just as I will! Thanks to Paintyourlife.com for the amazing painting that turned out better than I could have ever imagined! #bigreveal
Read more
My wife`s husband died 10 years ago. She didn`t have a photo of him with the kids. This was a mother`s day gift from the kids.
Read more