Christmas Gifts for Mom: 4 Ways To Make Her Feel Special
Looking For An Extra Special Gift For Your Mom This Year? Look No Further Than These 4 Ideas
Your mom deserves some extra special treatment this holiday season. She's been there for you since the moment you were born, and even before that! And chances are, this Christmas, she'll be running around doing plenty of things to make you and the rest of your family feel loved and cared about, all without asking anything in return. A great way to make sure she gets the care and attention she deserves is to give her a meaningful, personal gift.
In this article, we'll go over some of the best gift options for your mom that will make her feel special this Christmas. The holidays are a time to celebrate family and how much it means to you, and your mom deserves an extra special honor. Don't be afraid to go above and beyond to show her some love!
If you've been struggling to come up with a gift idea for your mom, this article will certainly be a major help. It's often hardest to choose what to give to the people that matter the most to us since the present needs to be especially personal. Keep reading to discover some truly special gift ideas that are sure to make your mom feel special this holiday season.
1. A Hand-Painted Family Portrait For Your Mom To Proudly Display
When it comes to Christmas gifts, it's always a great idea to give something personal to the people closest to you. When giving presents to your coworkers, acquaintances, or others that you aren't quite as close with, a nice gesture like a handwritten card or a gift certificate can be more than enough. However, with your family, especially your mom, it's especially important to give a gift that is personal. This means giving a gift that has sentimental value, tethered to the memories, stories, and unconditional love that make your family what it is.
Chances are, your mom has lots and lots of beloved memories with you and your family that she cherishes. Why not give the gift of one of these memories immortalized in a beautiful piece of art? At Paint Your Life, turning your family's memories into masterpieces is what we do best. Your mom is sure to love a special and sentimental piece of artwork that she can proudly display in her home for years to come, even passing it down to future generations down the road.
If your family has an especially well-loved photo filled with everyone's smiling faces, this is the perfect reference for a beautiful piece of artwork. Looking for a family photo to turn into a piece of art can be a great time – it gives you an opportunity to break out the old photo albums and find your favorites. If you and other family members are getting together to chip in on a gift for your mom, you can all enjoy the process of picking a photo together. It's a great way to bond with your family over shared memories and stories.
Paint Your Life's world-class artists can turn any family photo of yours into a work of art in one of several mediums. Your personalized art can be an acrylic, watercolor, or oil painting, or a black pencil, color pencil, or charcoal drawing. There's no wrong choice for the medium when it comes to artwork; it's all a matter of your personal preference and what you think your mom will like best.
2. Is Your Mom a Pet Lover? Here's Something Special For Her
Whether or not you're an animal person yourself, if you have family members that love their pets, it's hard not to feel the same. If your mom has a dog, cat, or other animal that she loves dearly, a great way to make her feel special this Christmas is to celebrate her beloved pet with her. One of the best ways to do this is – you guessed it – a portrait!
Your mom's pet, or a beloved animal that once belonged to your whole family, can be the subject matter for a gorgeous piece of art. If you ever wanted to find the perfect way to honor a pet as a special part of the family, look no further. At Paint Your Life, we believe pets are family. If your mom has an animal that she loves, there's something incredibly unique and special about giving her the gift of its likeness in the form of an artistic masterpiece.
If you choose to give this gift to your mom for Christmas, you have a few options in how you approach it. If you want, you can take a photo (or find one that's already been taken) of your mom's dog or cat and send it over to Paint Your Life to use as a point of reference for a piece of art in acrylic, oil, watercolor, color pencil, black pencil, or charcoal.
Or, if you want to go a slightly different route, one of Paint Your Life's expert artists can also turn a photo of your mom and her pet together into a piece of art. If you can find a photo of your mom and her dog or cat that captures everything special about their relationship, this is an especially meaningful way to honor your mom and her pet.
The holidays are a truly special time for everyone, and pets should be no exception! In addition, if your family lost a dearly loved pet a long time ago, Paint Your Life can help you and your family immortalize its memory for years to come. Even if a pup or cat has passed on, beautiful art can still be made in its likeness based on a photo. That's the magic of Paint Your Life – any precious memory captured in a photo can be turned into unique and beautiful art.
3. Celebrate Your Mom and Dad With A Couples' Portrait
Your mom and dad are undoubtedly one of the most special couples in your life. They are there for you when you need to support the most, ready to celebrate your successes, and grieve when things are hard. Not every family looks the same, but every family is special. At Paint Your Life, we believe in celebrating love and family through generations, and Christmastime is the perfect time to honor and appreciate your parents' love for each other and for your family.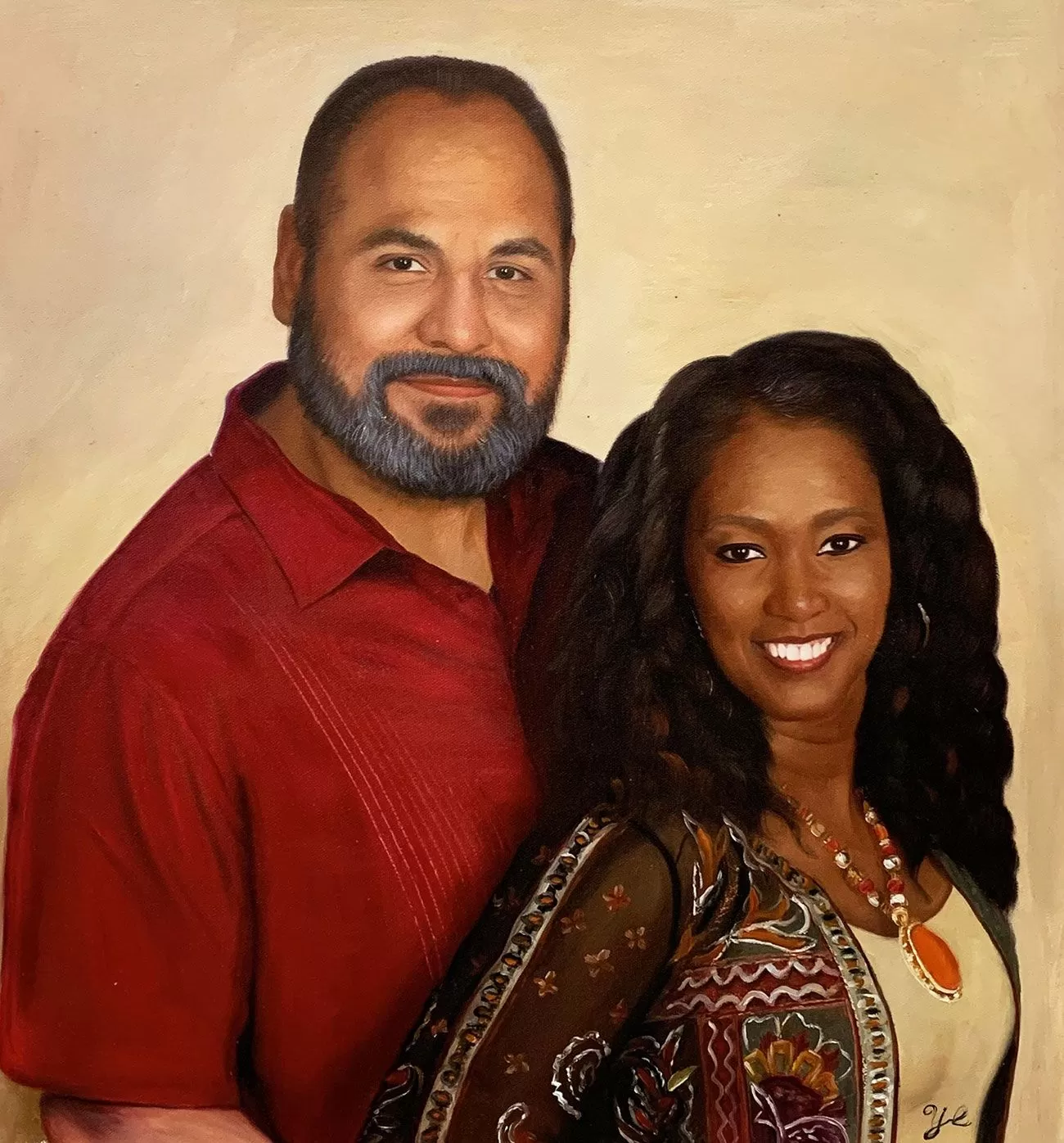 If there's a special photo of your parents that you especially love, a great way to celebrate their love for each other is to have it turned into art. There are plenty of opportunities to get creative with this gift idea. You can immortalize one of your parents' precious memories as a regal oil painting or a stunning color pencil drawing, or somewhere in between!
In addition, there's plenty of freedom for you to find special ways to surprise your parents with this gift idea. One of the best ways to personalize a couples' portrait of your parents is to use an old photo for a reference. You can even use your parents' wedding photo, which is sure to leave no dry eyes in the room!
4. No Matter What You Give, Write A Handwritten Card!
No gift to your mom is complete without a meaningful, handwritten note. Christmas only comes once a year, and it's the perfect opportunity to give your mom some loving and affirming words about how much she means to you. No matter what gift you give to your mom, make sure to add a card.
Use your Christmas card to your mom to let her know how special she is, how grateful you are for her, and to thank her for everything she has done for your family. Be specific! You can even write a list about all of the things that are special about your mom, collaborating with siblings and other family members to make the list even bigger. A piece of art is a great gift to give to your mom as a family, splitting the effort and cost with your brothers, sisters, dad, and others. Fortunately, Paint Your Life's portraits are incredibly affordable. While some portraits can cost thousands of dollars, Paint Your Life's portraits are significantly more affordable without any compromise on quality. The artists are masters of their craft, ready and able to turn any precious family memory into a masterpiece.
So, what are you waiting for? Christmas is coming up! Get your family together and enjoy the process of putting together a special gift for your mom. The holidays are all about enjoying time with the people you love most, exchanging gifts, and finding other meaningful ways to let the people in your life know how much you love them. Take the opportunity to show your mom some extra love this year!
Sources:
https://www.nytimes.com/article/best-holiday-tv-episodes.html
https://www.history.com/topics/christmas
https://www.huffpost.com/entry/saturday-night-live-christmas-songs_n_5e038f1ee4b0b2520d11bace