Personalized Wedding Gifts: The Best Ideas You Haven't Thought Of
Looking For A Wedding Gift That Is Truly Special? When someone close to you gets married, a celebration is in order. Friends and family gather to enjoy time together and commemorate the start of a new chapter in the newlyweds' lives. It's a time to laugh, cry, eat, dance, tell stories, and give gifts to the happy couple, wishing them well in their new life together.
Going to a wedding is a great time, but you, as a guest, also have an opportunity to show love to the newlyweds by giving them a meaningful, personalized gift. Giving a gift that means something to the couple is a surefire way to make them feel loved and let them know that their love for each other matters to you.
From this article, you'll learn some of the best gift ideas that you might not have thought of. These ideas are all personal and personalized, full of meaning and sentimental significance. They're all perfect options when you want to make a newly married couple feel extra special on their wedding day.
Turn A Wedding Photo Into A Beautiful Painting
At Paint Your Life, we've seen some of the most beautiful memories sent our way by families to have turned into works of art. One standout example came from Theresa, a mom whose daughter was getting married on the beach. The day after the wedding, there was a horse on the beach, but not just any horse. This horse was the same breed as the horse owned by Theresa's daughter's late uncle, who had taught Theresa's daughter to ride. The owner of the horse generously volunteered to photograph Theresa's daughter on the beach with the horse in her wedding dress, and the result is absolutely breathtaking. One of the talented artists at Paint Your Life turned this magical moment from Theresa's daughter's wedding into a gorgeous painting.
If your son or daughter is getting married and you're looking for an especially meaningful gift to give to them, you can do the same as Theresa and give the gift of a special photo turned into a beautiful work of art. Paint Your Life's artists work diligently and efficiently to get your photo turned into artwork, so you can look forward to having your gift ready not long after the wedding day.
Give The Gift Of A Precious Memory From The Couple's Time Together
If you have an adorable photo of the couple together, especially one from when they first started dating, this photo can serve as the basis for another special personalized wedding gift. An artist can turn this photo into a masterpiece in one of several mediums, from oil, acrylic, or watercolor paint to color pencil, black pencil, and charcoal. Then, the happy couple can proudly display the artwork in their home. This artwork will serve as a memory for years to come of how far the couple has gone together.
When a couple first gets married, they're often working hard on making sure that the home they now share with each other looks great and is well-decorated. Because home decor is such a major need for newlyweds, a beautiful painting is the perfect gift for them on their wedding day.
However, not just any nice-looking painting will do. You need something that means a lot to the couple. Giving the gift of artwork based on a precious moment from the couple's time together is the perfect way to help them decorate their home with something that brings back fond memories.
Attending The Wedding Of A Pet-Loving Couple? Here's The Perfect Gift For Them
When a couple begins their new life together, a big bonus that comes along with their marriage is getting to share each other's pets. Pets are special members of the newlyweds' family, and they hold a special place in the couple's hearts. This makes them the ideal subject matter for a gift for a pet-loving couple.
Did you know that Paint Your Life can turn photos of pets into masterful pieces of art? The talented artists at Paint Your life are experts at capturing a precious pet's likeness, all the little quirks and traits that make them who they are. When you're looking for a gift to give to a couple that dearly love their pet, there's nothing better than a beautifully done painting of the sweet pup or cat that they adore.
Paint Your Life's pet portraits are available painted or drawn in several different mediums, including oil, acrylic, or watercolor paint, as well as color pencil, charcoal, and black pencil. The medium that you choose is part of the fun, and it offers you some creative freedom with the gift you give to the pet-loving newlyweds. If you're not sure which format to go with, these examples of masterful pet portraits in all of the above mediums will help you get a sense of what each one looks like.
In addition, if you have a photo of the couple with their pets, you can have an artist at Paint Your Life turn that picture into artwork as well! Photos of a couple with their pets are an especially adorable form of family pictures, with the smallest, furriest members of the family present. Pets are, after all, honored members of the family, and they should never be left out of family photos!
Send A Meaningful, Personalized Note With Artwork
If you wanted to go the extra mile and say something kind and loving to the couple as they enter married life together, a note is always a special addition to a wedding gift. A picture can say a lot, though, and one of the best ways to make your gift extra meaningful is to combine a note with artwork done by one of the talented artists at Paint Your Life.
Whether it's a painting based on a photo of the couple together, a charcoal drawing of one of the couple at one of their favorite places, or something else, adding a note can make the artwork even more special, and vice versa. The artwork will make the note even more memorable and meaningful.
If you're not sure what to say to the couple, think about how much they mean to you, the memories you have with them, and all of the wishes you have for them in their life together. Writing a wedding card is the perfect opportunity to let someone know how much you care about them, especially if you're not one to often speak up when you're feeling affectionate.
When You Don't Know What To Get For Newlyweds, Paint Your Life Has You Covered
It's often a better option to give something meaningful as a gift as opposed to a less personal present. This is especially true on someone's wedding day. It's one of the biggest, most important moments in their life, and celebrating them with a piece of artwork that carries precious memories of their time with their spouse is sure to bring up an emotional response. Be prepared for your gift to produce some tears – there's bound to be a lot of joy that wells up when the newlyweds see your gift!
What To Expect When You Order From Paint Your Life
When you order a custom-made portrait from Paint Your Life, you can count on excellence, and world-class artistry, a combination that is sure to leave the newlyweds in your life overwhelmed with joy. All you need to do to get the ball rolling on giving the gift of a beautiful portrait is to start by finding a photo to use as a reference, then choosing the dimensions and medium for your artwork. Paint Your Life's portraits come in a wide array of sizes. When you're giving one as a gift (or getting one for your own home), you have total freedom to choose how big or small you want your portrait to be.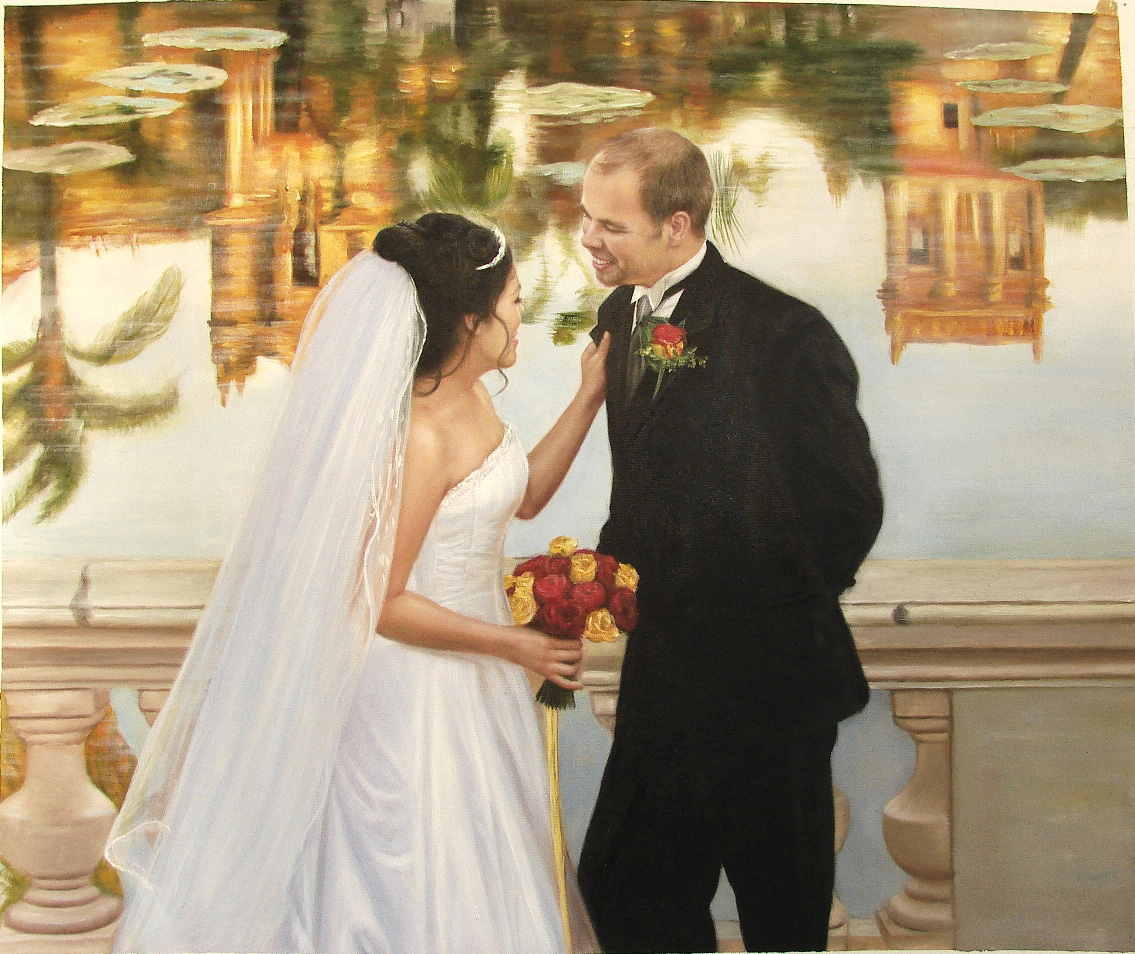 The turnaround time for a portrait from Paint Your Life is always less than a month, meaning you have plenty of time to make arrangements for it and place your order before the day of the wedding you're attending. In addition, if you're turning a photo from the wedding day into a painting, this quick turnaround rate means your gift will be ready to give shortly after the couple returns from their honeymoon. Until then, you can give them a thoughtful card and let them know that something truly special is on the way.
It is well worth the wait to receive a gorgeous rendition of a wedding photo done in one of a variety of beautiful mediums. It's one of those wedding gifts that you might not be able to give on the day of the wedding, but you can present it to the happy couple shortly after. Some of the best things in life are things you need to wait a bit for, and beautiful portraits are no exception!
Sources:
https://www.thisoldhouse.com/21018464/11-foolproof-home-decorating-tips
https://www.hgtv.com/design/decorating/design-101/6-tips-for-decorating-your-first-home
https://www.theknot.com/content/wedding-wishes-what-to-write-in-a-wedding-card