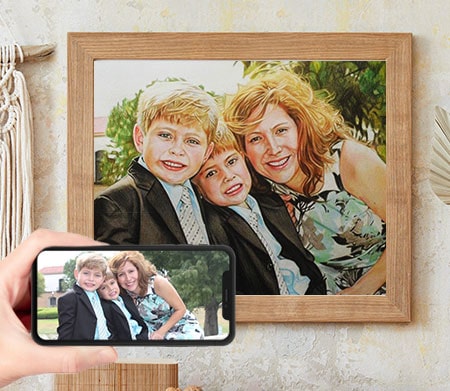 Custom Color Pencil Portraits
100% Money Back Guarantee + FREE Shipping!
Only

10% Deposit due now:

$19

Remaining balance after painting approval
Tour Our Color Pencil Portraits Galleries
Thank you for sharing the paint your life love!
My husband passed away in 2016 and my daughter had a son in 2018. She has been so upset saying how much she wished she had a picture of her dad and her son together. Paint your life allowed me to do this for her. So in the picture is grandpa and grandson for the very first time.
Read more
I had a portrait done for my daughter and son in law of their daughter! It looks just like her as you can see in the video! They loved it!
Read more
My dad's brother, my uncle Ray, passed away almost 9 years ago. They never had any recent picture together so I wanted to do this for my dad. Needless to say he loved it, after just glancing at it he broke down in tears.
Read more
I sent in a snapshot of our farmhouse that my wife and I lived in for many years. The house had been her grandfathers from 1930 on and we purchased it in 1997. She spent many days there visiting her grandmother and lived there a short time when she was 6. We loved living there and it is really one of the landmark houses in Fayette County, OH. I ordered it for Christmas and as you can see from the video she really loved it. The experience was a little trying but worth the effort. Fed Ex damaged one corner of the box and it caused a minor separation in the frame. Other than that, we love how it looks in our current home.
Read more