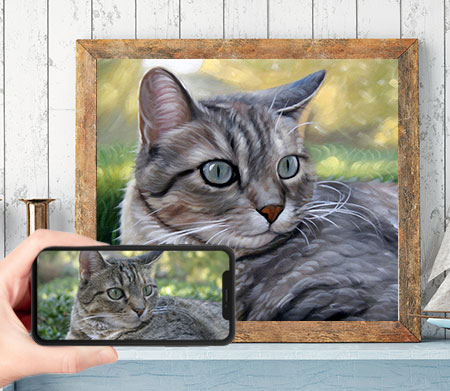 100% Money Back Guarantee + FREE Shipping!
Only

20% Deposit due now:

$29

Remaining balance after painting approval
Tour Our Cat Portrait Gallery
Tour Our Cat Portrait Gallery "I ordered this for my mom. Our cat of 16 years, Ginger, (aka Fluff or Swishy-tail lol) recently passed away. The first year that we had her, she hopped into this red basket my mom had set out for the holidays and Fluff would hardly ever leave it. Every year since then, we've set that red basket out for Thanksgiving and Christmas for our specially kitty to sit in. It's going to be our first time in 16 years where that basket is empty, but now we have this special painting to look at instead!"
Watch one of our talented portrait painters creating a masterpiece.
"The painting I ordered was for a Christmas gift for my fiancé. She had lost her beloved rescue kitty "Albert" that she had for over ten years. He was her baby. It`s been a very emotional year for her."