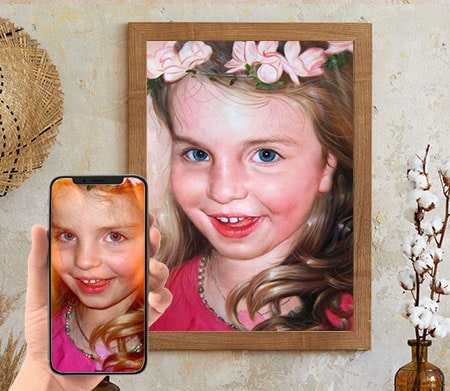 100% Money Back Guarantee + FREE Shipping!
Only

10% Deposit due now:

$14

Remaining balance after painting approval
Tour Our Child Portrait Gallery
Thank you for sharing the paint your life love!
My oldest brother passed away in 2001 by suicide. He died when he was 18. My mom collects angel art and loves Nancy Noel`s paintings especially. I wanted a baby picture of my brother to be painted with angel wings so it would match many of the angel paintings she already has. I gave her this painting for Mother's Day. She was overwhelmed to see her son as the angel that he is. Thank you SO much to the incredible artist and this incredible company! She says it's the best gift she's ever received!
Read more
Lilly the one little girl in the video passed away at 6 months. my mother in law always wanted pictures done. so I thought why not a painting something she will have forever
Read more
My son Issaiah was Murdered with his dad and the girlfriend on 07/14/18 and while my child was with his father I wasn`t able to see him graduate kindergarten so this painting that the Artist Johny did for me I will cherish it always it truly means so much to me I may not have got justice for my child yet but I have this beautiful painting of my child that to me I feel when I walk by it he is saying Mother it`s ok I graduated and got my wings but I`m always with you and forever in your heart...
Read more
I had a portrait done for my daughter and son in law of their daughter! It looks just like her as you can see in the video! They loved it!
Read more
This is our baby James - and it's from one of the first photos we took of him in hospital. My wife was waiting for her "push present" and I was able to keep this a surprise. We love it so much and we will always have a reminder of our boy when he was brand new for the rest of our lives.
Read more
This was for my best friends anniversary. Her four children are growing up fast! And I found this wrinkled crumpled picture in her junk drawer. She wanted it restored "one day"... so I took it! Lol! And surprised her with this painting of that photo!
Read more
My parents have had an oil painting in their house since before I was born. But yet the painting was just an artistic rendering of an old man that wasn`t related to the family. My parents now have six grandchildren and enjoy having large photos of their grandchildren framed for their home. Realizing that this might be an opportunity to give them something unique and special, I commissioned this oil painting of their youngest granddaughter. Now my parents will enjoy a fine work of art that is more deeply connected to the family.
Read more
Elizabeth my partner is in the video. The painting ordered is one of our favorite pictures of our 1 year daughter Cecilia. I had recently learned about Paint Your Life and decided to have it done for Elizabeth`s birthday. She was incredibly excited about it!
Read more
What an amazing Christmas present for my 85 year old Mom. She's wanted a portrait of me for some tome. Paint Your Life made it happen! It's beautiful and I am so happy that you were able to help. Thank You!
Read more
Oh! He looks great! Aw... Hello, my handsome little grandson. Now you can be close to your granny...
Read more