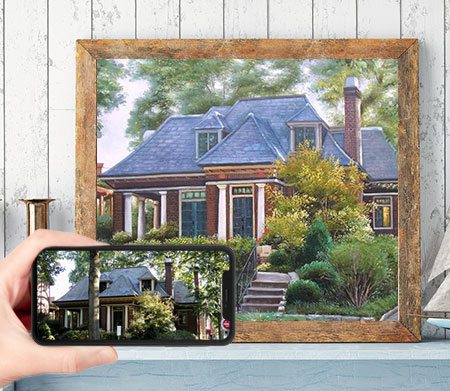 100% Money Back Guarantee + FREE Shipping!
Only

10% Deposit due now:

$29

Remaining balance after painting approval
Tour Our House Portrait Gallery
Thank you for sharing the paint your life love!
I got a painting from my wife and it's the new house we just purchased less than a month ago for our first anniversary. Using Paint your Life was the best decision I made, the chat on their website was super helpful and everyone was so nice and accommodating. I needed a quick turn around on this painting and they made it happen. So please and happy with the painting, definitely going to use them again! Thank you for making our special day one to remember. As you can see in the video my wife absolutely loved it!
Read more
My Mother-in-law's Father built this house in the 1940s in Virginia. She grew up here and brought her kids and then her grandkids here to see her Mother. Her father passed away in 2000. In 2011, her mother passed away and the house and property had to be sold out of the family. The people who bought the house lived there for a short period of time then abandoned it. Now, the land is completely covered in vegetation, including the porch. It is hard to see the house from the road. This painting is from a picture taken when we went to the funeral in 2011, the last time my mother in law saw her childhood house like this. To say having this painting means the world to her is an understatement. So many of her memories were made here for four generations.
Read more
Painting as a wedding gift of a photo taken on the day of the wedding in Nantucket.
Read more
I sent in a snapshot of our farmhouse that my wife and I lived in for many years. The house had been her grandfathers from 1930 on and we purchased it in 1997. She spent many days there visiting her grandmother and lived there a short time when she was 6. We loved living there and it is really one of the landmark houses in Fayette County, OH.
Read more
Being in the Marines, we move often and even live overseas. For Christmas this year I bought my wife a paint your life painting of the house we lived in while stationed in Japan. The house is even more special to us since we had our second son while living there. She absolutely loved the painting.
Read more
The painting is of my childhood home. My sister and I gave it to my parents on Christmas morning so they could take it with them after they sell the house.
Read more
This painting was for my mom for Christmas. She was very close to her parents and they are currently in the process of selling their estate. This home holds so many memories for all of us, but especially her. We just wanted to give her a little piece of home to keep with her always. You can see her room window, the flowers my grandma painted, the spot my grandparents would sit outside, and the tree we spread some of my grandparent`s ashes under. Whoever the artist did an incredible job and we are forever grateful for helping keep these memories alive.
Read more