Showcase & Bio
Badri
---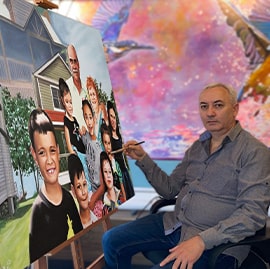 It was no surprise that Badri picked up his first paintbrush so young; both of his parents were painters. They taught him their techniques, encouraged his creativity, and inspired him to become the artist he is today.

After graduating from art school and serving in the military, Badri began his intensive career as a full-time artist. Today, he works in many mediums – oil, charcoal, and more – and his masterpieces are regularly showcased in local art galleries.

Badri's greatest inspiration comes from the human form, the many expressions of the face, and the complex tones of skin color. It's a nearly bottomless well of diversity and originality that he never tires diving into.
See Badri at work
Other Portraits in Color Pencil
By Badri